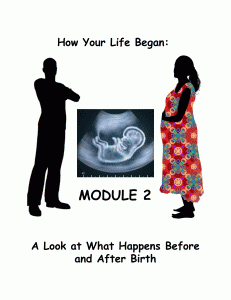 Objectives for Module 2
Students will explore and be able to describe prenatal development.
Students will appreciate that genetic and environmental influences interact from conception onward to shape a person. The uterus is the unborn child's environment.
Students will be able to discuss the effects of prenatal exposure to toxins including alcohol, tobacco and other substances of abuse.
Students will appreciate that the physical health, mental health and quality of life of a pregnant woman impact her unborn child.
Students will explore birth and birth complications.
Download Module 2 (in sections due to large file sizes)